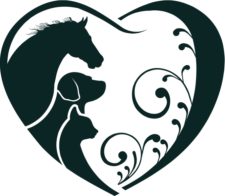 How My Working With Animals and Reiki Began – I grew up with animals (cats, dogs) and around chickens, cows, horses and rabbits at my uncle's farm. Sometimes, I would care for injured birds, rabbits and snakes that were found in my yard or nearby meadow. My fondest childhood memories are visiting my uncle's farm, helping with chores whenever I could and as often as allowed, riding their unruly ponies. My first time on a horse I was just 18 months old.
But as a child as much as I loved animals I was allergic, especially to cats and horses. Because of my severe allergies, my childhood dreams of becoming a veterinarian were discouraged by the family doctor, who encouraged people medicine instead. Having grown up in a family of nurses that included my mother and three of her five sisters, becoming a nurse seemed natural … but working with animals continued, and continues to be one of my passions. 
As an adult, I gratefully outgrew (or perhaps was 'healed' from) these allergies. I began offering Reiki to animals in 2004 when people began bringing their 'non-human' family members to our Reiki Share/Clinic in Manchester-by-the-Sea, MA, looking for adjunctive/supportive methods to help their ailing, non-human companions.
Returning to my childhood dream to be a veterinarian. I began to see cats and dogs for Reiki Sessions in my Manchester office and offered Reiki to horses at stables and farms. Teaching 'Reiki for Equestrians and their horses began when I connected with Sam (Joan) Morrison at Welcome Home Farm in Greene, Maine. Sam is one of the original proteges of Sally Swift, founder of Centered Riding.™ Sam resonated with my more intensive four levels of Reiki Training and apprentice style of classes, with the student moving from one level to the next after accomplishing certain requirements and deemed 'ready' by the instructor.  This was in-line with the way Centered Riding™ is taught. After first training with me in Western Reiki, when I began teaching Komyo Reiki Sam and her centered-riding, like so many of my students connected more with the Komyo Reiki System. Students that 1st took Western Reiki then Komyo Reiki report finding the Komyo system "simpler," "more intuitive," "quicker" and often more effective. Reiki Ryoho fit well with Centered Riding Techniques of 'connection' and 'balance.'
Animals can potentially benefit from reiki for emotional, behavioral and physical health issues.

Animal Reiki Sessions –
Reiki is offered as integrative, adjunctive (supportive) care in addition to conventional veterinary care of animals. Animals of all kinds can experience the 'relaxation response' as humans do, with similar potential benefits. Some of the responses noted by owners have been:
Increased calm
Improved digestion
Decreased swelling
Enhanced wound healing
More comfortable, relaxed ride (equestrians)
Pre-operative Reiki for increased relaxation
Post-operative Reiki to support recovery and healing
'Animal Reiki' Training –
Basic Reiki Training and self study and practice afterward can include working with family, friends and pets. This workshop is geared towards Reiki Practitioners interested in working with animals other than their own and/or professional practice.
In this workshop you will learn:
How to assess whether the animal is 'open to' receiving. '
Asking permission (Important prior to offering reiki to others, human and non-human.)
What to observe for 'relaxation response' in animals
Ethics and Boundaries (For working with animal and owner.)
How to conduct a session safely, professionally and effectively when working with animals and their owners.
Hands-on practice is offered at local animal shelters with additional opportunity for practice.
Because animals can sometimes respond to Reiki in an unusual and unpredicted manner, making additional training beyond basic (1st Degree/Level 1) reiki training important, especially when working with animals unfamiliar to us. Additional study in animal husbandry, animal sciences, or similar classes and/or volunteer work at Animal Shelters and Therapeutic Riding Centers is recommended for those pursuing professional Animal Reiki practice. (Pre-requiste: 2nd Degree/Reiki Level 2)
Reiki: Supportive Care for Animals. In the above photo, 15 year old Golden Lab Max is 'soaking up' the Reiki. Relaxing into his sessions, he often drifts asleep. After his sessions his owner reports – "increased energy" and "improved appetite." Diagnosed with advanced lung cancer, with medication (antibiotics) and Reiki, Max has outlived his prognosis.
Equestrian Reiki: Reiki for Rider and Horse – 
This workshop is for equestrians looking for ways to increase their connection with their mount, improve their ride, and enhance eventing performance. (Pre-requisite: Experience with horseback riding and/or classes in horsemanship.)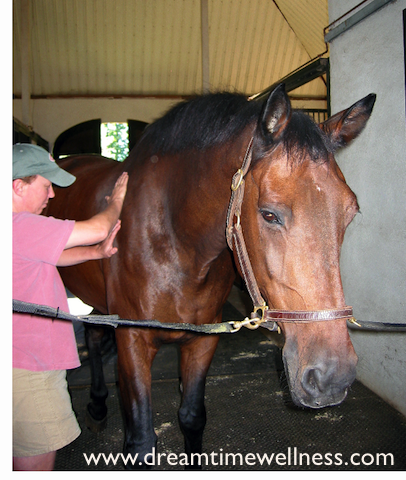 Reiki Sessions and Trainings are Offered Nationally 'On-Site' Upon Request. A minimum # of students are required for classes. Workshops include discussion as well as supervised practical experience.
Contact us for Information and Details or How to Schedule a Session or Training.
Testimonials: 
"Have to mention to you about Duchess. She is a finicky eater; after your short (Reiki) treatment she is eating like a little piggy. Thanks."

  -Sam M.  Greene MA  (Reiki was helpful for this horse's wound healing, and improved appetite.)
"My ride is definitely more relaxed when my horse has reiki beforehand."   – David S.   Hamilton MA
Reiki Principle #5 – 'Hito ni shinsetsu ni' translates from Japanese as 'Be Kind to Others.' (From Founder of USUI Reiki Ryoho, USUI Mikao.) In our Reiki practice, that includes all beings.
Buddha taught loving kindness for all beings, including non-humans. Offering Reiki to animals is a wonderful and rewarding way to promote loving kindness to others.